Purim 2019 / 5779
Purim is celebrated by the reading of the Scroll of Esther, known in Hebrew as the Megillat Esther, which relates the basic story of Purim. Under the rule of King Ahashuerus, Haman, the King's prime minister, plots to exterminate all of the Jews of Persia. His plan is foiled by Queen Esther and her cousin Mordechai, who ultimately save the Jews of the land from destruction. The reading of the megillah is typically a rowdy affair, punctuated by booing and noise-making when Haman's name is read aloud.
This year, our Purim celebration will take place on Monday, March 9th.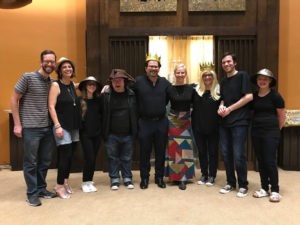 Our "fun for all ages" celebration will begin at 5:30 pm. Austin Temple Teens will be hosting its annual Haman's Hot Dog Hangout. There will be fun and games followed up by our annual Purim Service at 7:00 pm.
By tradition, our Purim service is interrupted by a Purim Shpiel, a musical production based on the Purim story. Members of our congregation and staff play the parts of the characters described in the megillah. Each year the shpiel is based on a different theme.
RSVP COMING SOON for Haman's Hotdog Hangout- dinner & games by the youth group. $5/meal in advance, $8 at the door.
Mon, January 20 2020 23 Tevet 5780